Categories: Accessories, Tyres
Please note, all of our items are subject availability, and our stock levels change regularly.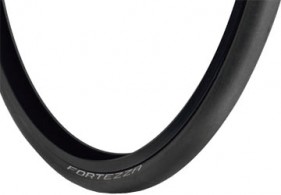 For competition and all around use on dry roads, Vredestein's Fortezza clincher is a great choice. It balances weight, durability, ride quality and puncture resistance in a value-packed tire. It uses a dual-compound rubber with a harder center tread for durability and softer sides for cornering grip. The Fortezza sports a layer of composite down the center of the tread for extra flat protection, too.
You may be interested in…