Categories: Accessories, pumps
Please note, all of our items are subject availability, and our stock levels change regularly.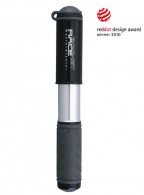 Designed to meet the demands of a professional racing and training schedule this elegant and sleek mini pump features a full aluminum body, head and pump handle. An extendable hose helps take stress off the valve stem and the dependable single action stroke fills tyres fast. The RaceRocket's compact size easily fits in a jersey pocket and its low weight is welcome on long training rides and endurance races.
You may be interested in…