Categories: Accessories, Tools
Please note, all of our items are subject availability, and our stock levels change regularly.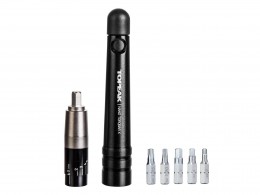 DESCRIPTION:
Compact, easy to use and read torque wrench provides correct tightening of bolts on frame and component bolts to recommended torque values for safety and performance. Two of your favorite bits can be carried in the handle of the Nano TorqBar X for immediate use and even greater portability during rides. Torque range: 2 - 6 Nm.
You may be interested in…