Categories: Accessories, pumps, Tools
Please note, all of our items are subject availability, and our stock levels change regularly.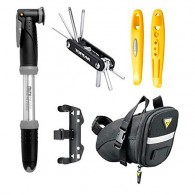 Topeak Mini Dual Pump - Compatible with every common valve and can be easily attached to your frame.
Topeak Wedge Aero Pack with Strap - A handy, yet compact saddle bag for storing tools and other essentials.
Topeak Folding X-Tool+ - An 11-function mini tool with Hexagon and Screwdriver options.
Topeak Shuttle Lever 1.1 - Makes changing your tyre much easier, especially whilst on the move.
You may be interested in…