Categories: Accessories, Tools
Please note, all of our items are subject availability, and our stock levels change regularly.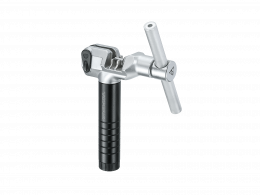 DESCRIPTION:
High quality chain tool with replaceable plunger pin for single and multi-speed chains up to 12 speed, including Campagnolo® 12 speed hollow pin chains. Included chain hook holds links during assembly. Storage space for the included chain hook and one spare plunger pin.
You may be interested in…