Categories: Accessories, Tyres
Please note, all of our items are subject availability, and our stock levels change regularly.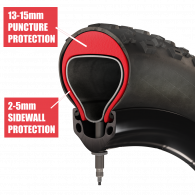 Tannus Armour 26" is the ultimate in performance and protection for all levels of riding. Whether you are riding bike parks, local woodland trails or the big mountains, the Armour will prevent you getting from getting a flat tyre and damaging your rim. The wings of the Armour that wrap your inner tube protect from sidewall tears and pinch flats. The extra sidewall support means you can run lower pressures but still keep that tyre shape....resulting in more grip and ultimately more confidence to hit those corners harder.



The thickest part of the Armour at the top means you can practice those jumps, rock gardens and root sections without worrying about damaging your rim. This extra cushioning means your can ride home on a flat tyre (if you do some serious tyre damage), with our run flat capability.



You will also notice a smoother ride with the Armour. It absorbs a lot of the small bumps on the trail, meaning less fatigue in your arms.



Weight: 300g



Inner tube size: If your tyre is between 1.95"-2.1" in width, then you want a tube within a 26" x 1.5"-1.95" range. If you have a 2.1"-2.5" width tyre, then you will want a tube within a 1.95-2.1" range.



Trim the wings: If you have a 1.95"-2.1" tyre width, then take a pair of scissors and cut along the "cut-line" on the Armour wings.
You may be interested in…