Categories: Wheels
Please note, all of our items are subject availability, and our stock levels change regularly.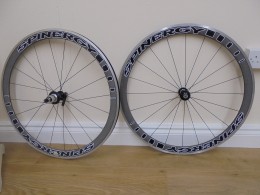 Size: 700C
Rim: Carbon with Aluminium Braking Surface
Freehub Body: Shimano
Spokes PB0, PB0 Spokes are 5 times stronger than any Stainless Steel Spoke and 1/3 of the weight. The Stronger Spokes allow for Spinergy to build a Wheel with incredible lateral and torsional stiffness, resulting in less flex and wind-up
under pedalling torque and braking.
Front Wheel Skewer missing.

You may be interested in…