Categories: Accessories, Saddles/Seatposts
Please note, all of our items are subject availability, and our stock levels change regularly.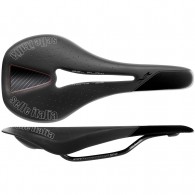 A versatile model for the off-road cyclist. Perfect for exploring new paths and supporting adrenaline-fuelled performances at affordable levels with just the right amount of comfort.

Features:
DURO-TEK: Technical cover material that guarantees a strong and durable lifetime.
EXTRA PADDING:Increased padding to ensure durable riding positioning for long distances and provides the rider with protection against skin inflammation.
FEC ALLOY RAIL:High strength and flexible carbon-iron steel alloy, ø 7 mm.
GEL FLOW: The special Gel Flow anatomic cut-out provides excellent comfort to "soft tissue" areas by offering greater flexibility at the front of the saddle. Combined with a thin layer of silicon gel it absorbs all road vibrations.
You may be interested in…