Categories: Accessories, Saddles/Seatposts
Please note, all of our items are subject availability, and our stock levels change regularly.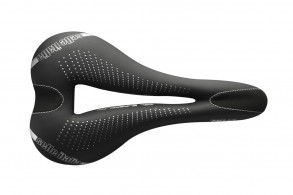 Absorption system between the frame and the frame that eliminates vibrations from the road, guaranteeing a great comfort of the seat.
Technical microfiber that guarantees the strength and lightness of the saddle, even at long distances.
Additional filling that guarantees a long comfort of the seat in long distances and protects the runner from possible cutaneous inflammations.
The strength and durability of the frame has been increased up to 25% and its weight has been reduced by 15% compared to traditional frames, ø 7 mm.
SuperFlow technology drastically reduces all physical discomfort caused by prolonged pressure in the pelvic area and allows you to find a very comfortable optimal position.
You may be interested in…