Categories: Accessories, Computers / navigation
Please note, all of our items are subject availability, and our stock levels change regularly.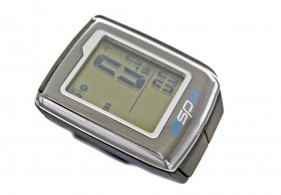 Raleigh 20 Function Wireless Cycle Computer

The Raleigh 20 function cycle computer features a dual row LCD display, 2 button interface and wireless operation. With 20 useful functions ranging from the basics such as current and average speed to calories burned and air tempreture. Tool free fitting and simple setup it this computer provides all the vital information for riders with out the mess or inconvenience of cables.

Details
• Fits bikes with wheels from 20" to 28". Fits oversize & suspension forks.
• Speedometer in kmh or mph.
• Trip Distance k or m.
• Odometer k or m.
• Auto trip meter.
• Maximum speed kmh or mph
• Calorie count
• Maintenance indicator
• Digital clock.
• Stopwatch.
• Average speed kmh or mph.
• Scan
• Freeze frame memory.
• Speed compararator + or -.
• Rapid auto scan
• 12/24 hour clock.
• Speed tendency.
• Odometer save function.
• Temperature.
• Centigrade or Farenheit selection.
• Fat burn.
You may be interested in…