Categories: Frame protection
Please note, all of our items are subject availability, and our stock levels change regularly.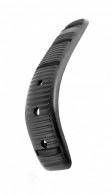 Frameguard E
Built For use with E-Bikes
Size
490mm l x 75mm h
Colour
Black
Weight
200g
Material
Flexible viscoelastic polymer with a aluminium metal plate insert.
Design
Polymer absorbs heavy impacts and the metal plate shapes to your frame while adding an extra layer of protection.
Fitting
Extra strength 3M VHB tape is attached to metal tabs which detach from Frameguard – the tape can be easily removed without causing damage to the frame. In some cases a tab may be obstructed by a join or weld on the frame so we include an extra length of Velcro to replace this tab and give you more flexibility of fit.
You may be interested in…