Categories: Accessories, Lubes/Cleaners
Please note, all of our items are subject availability, and our stock levels change regularly.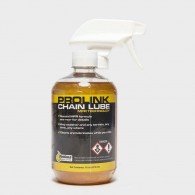 Progold Prolink 16oz Chain Lubricant utilises a thin bodied formula to generate dirt shedding and moisture repelling performance. The friction reducing composition guarantees a smooth ride. A thin bodied chain lubricant Metal friction reducing technology Dirt shedding formula Repels moisture and prevents corrosion16-ounce bottle.
You may be interested in…