Categories: Accessories, Bike racks, Other Stuff
Please note, all of our items are subject availability, and our stock levels change regularly.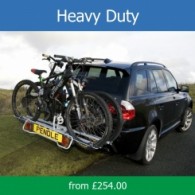 This is a special version of our wheel support rack that is designed for heavier bikes such as downhill, freeride or electric bikes.
Whether you are going for a quick blast around a trail centre or setting off on an epic mountain tour you want a dependable rack that is simple to use.
A Wheel Support is the ultimate rack for your needs.
The most versatile rack in our range – fits almost any vehicle with a tow bar and almost any bike. The ultimate in car and bike friendly travel.
Brilliant simple mounting system. The bike is held in place by both tyres and leans against a vertical support, giving a very solid and stable fitting. Straps secure the bike to the rack at these 3 points.
No fiddly, gimmicky bike clamps that could damage the paintwork or don't fit your bike.
Adjusts to fit your bike in seconds, adjusts for wheelbase, frame shape and bike widths.
Check your vehicle's nose weight – the combined weight of the rack and bikes must not exceed this. See below for rack weights.
Carry bikes at up to 25kg each, with tyres up to 3 inches wide.
Includes light unit.
Modular design makes it easy to strip down to component parts or leave partially assembled while not in use.
Behind the Ball Mounting – This option is to fit the 2 Bolt Type tow bar. The mounting block is sandwiched between the tow ball and the tow bar and becomes a permanent part of the assembly. The block does not affect the use of the tow ball although this rack cannot be used whilst towing. Choose the correct version to match whether you have single or double light sockets, we include a bracket for fitting them to the mounting block.
You may be interested in…