Categories: Accessories, Lights
Please note, all of our items are subject availability, and our stock levels change regularly.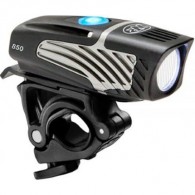 Light Modes
NiteRider's Lumina Micro Front comes with five different modes which can easily be toggled between using the power button on the top of the light. This allows you to easily access the best possible mode for your current lighting environment and your battery life. The light modes included:

Mode One: 200 lumens light output – 9 hours battery life

Mode Two: 450 lumens light output – 4 hours battery life

Mode Three: 850 lumens light output – 1.30 hours battery life

Mode Four (Flashing): 10 hours battery life

Mode Five (Flashing): 60 lumens light output – 35 hours battery life

Rechargeable Battery
The light comes with a rechargeable Li-Ion battery which can be charged via any standard USB port for quick on the go charging. The light comes with up to 35 hours battery life with a full recharge taking just 3.30 hours. To ensure you know when it's time to charge the light comes with a low battery light indicator so you never get caught out in a blackout situation.

Mounting
Built for on and off-road use the Lumina Micro comes with an integrated mounting system which has a rugged design that is adaptable to most types of handlebars. The mount is specially adapted so that the light can be taken on and off the bike in seconds which is convenient especially for commuters.
You may be interested in…