Categories: Accessories, Tyres
Please note, all of our items are subject availability, and our stock levels change regularly.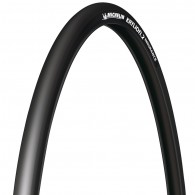 MICHELIN Krylion 2 Endurance, the tyre for sportive usage.

An excellent puncture resistance thanks to it's bead to bead protection: BEAD 2 BEAD PROTEK.

Excellent Efficiency, High Mileage without compromising the wet cornering thanks to the "Bi-Compound" technology.

Hi-Grip Design lets you improve your lateral grip using progressive tyre tread voids.

Bi-compound - two rubber compounds in the tread area. For increased pedalling and braking torque and safer cornering.
Bead 2 Bead PROTEK gives excellent puncture protection across the entire casing.
Casing ply - 3X110 TPI.
You may be interested in…