Categories: Bikes, Road bikes
Please note, all of our items are subject availability, and our stock levels change regularly.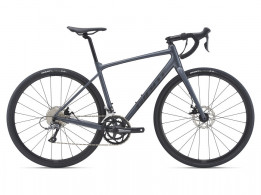 ColoursGloss Charcoal
FrameALUXX-Grade Aluminium, disc. Compatible with fenders
ForkAdvanced-Grade Composite, full-composite OverDrive steerer, disc
ShockN/A
HandlebarGiant Connect
StemGiant Sport
SeatpostGiant D-Fuse, alloy
SaddleGiant Approach
PedalsN/A
ShiftersShimano Claris
Front DerailleurShimano Claris
Rear DerailleurShimano Claris
BrakesTektro MD-C550
Brake LeversShimano Claris
CassetteShimano CS-HG50, 11x34
ChainKMC Z72
CranksetFSA Tempo, 34/50
Bottom Bracketcartridge
RimsGiant S-R2 Disc wheelset
HubsGiant S-R2 Disc wheelset
SpokesGiant S-R2 Disc wheelset
TyresGiant S-R3 AC, 700x32c (max tyre width possible: 40mm)
Extrastubeless prepared
WeightThe most accurate way to determine any bike's weight is to have your local dealer weigh it for you. Many brands strive to list the lowest possible weight, but in reality weight can vary based on size, finish, hardware and accessories. All our bikes are designed for best-in-class weight and ride quality.
Sizes: Medium, M/L, Large.
You may be interested in…