Categories: Bikes, Kids Bikes
Please note, all of our items are subject availability, and our stock levels change regularly.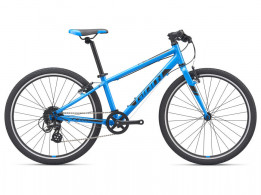 FrameALUXX-Grade Aluminum
Forkalloy
ShockN/A
HandlebarGiant Youth, 540mm width
Stemforged, alloy Ahead
SeatpostGiant Sport, 27.2
SaddleGiant Youth
Pedalsplatform
ShiftersShimano Altus
Front DerailleurN/A
Rear DerailleurShimano Altus
Brakesalloy, linear pull
Brake Leversalloy, junior MTB
CassetteShimano HG200, 12x32
ChainKMC Z8.3
Cranksetalloy, forged, three-piece, 32t, 140mm
Bottom Bracketsealed cartridge
RimsGiant Kids 24", alloy
Hubsalloy, F 28h QR, R 28h
Spokesstainless, 14g
TyresInnova IB-3010, 24x1.5
WeightThe most accurate way to determine any bike's weight is to have your local dealer weigh it for you. Many brands strive to list the lowest possible weight, but in reality weight can vary based on size, finish, hardware and accessories. All our bikes are designed for best-in-class weight and ride quality.
You may be interested in…