Categories: Nutrition
Please note, all of our items are subject availability, and our stock levels change regularly.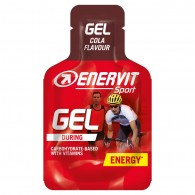 Gel 25ml (During)
Enervit Sport Gel is a Carbohydrate based energy product used during intense and sustained effort in sport.

Energy product with carbs and vitamins.
Safe and practical for Sports
HOW TO USE

In case of intense and sustained exertion in sports practice, take Enervit Sport Gel immediately before or during the activity. The recommended dose is up to 4 mini-packs.

WARNINGS

Store in a cool, dry place.

More Info:

Key Ingredients: Carbohydrates
Product type: Gel
Sport: Running, Cycling, Triathlon, Cross Country Skiing, Team sports, Ironman, Tennis
Properties: Gluten Free
Consuming time: During Sport.
Flavours: Cola, Raspberry, Citrus with Caffeine, Orange.
You may be interested in…