Categories: Accessories, Lubes/Cleaners
Please note, all of our items are subject availability, and our stock levels change regularly.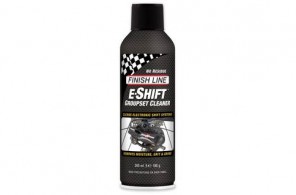 The Finish Line E-Shift Groupset Cleaner - 266ml, is the perfect cleaner for those sensitive components, electronics and wires. With E-Shift there is no need to worry about damaging wires or derailleurs, cleaning away the grit, grime and old lubricant with its state of the art formulation quickly evaporates with no water rinsing required. Parts are left completely clean and completely dry in minutes. This product will ensure these parts are well looked after, preventing premature wear and keeps components running at peak performance a great investment for your bike cleaning regime.
You may be interested in…