Categories: Bikes, Kids Bikes
Please note, all of our items are subject availability, and our stock levels change regularly.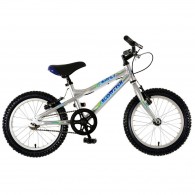 Our Blowfish model has been a hit for many years! And it's easy to see why. With it's lightweight aluminium frame, robust and long lasting alloy wheels, simple to use specification and reliable performance it offers great value for money. Weight is also kept to a minimum, making it easier for your child to handle and ultimately making their riding experience more enjoyable.
You may be interested in…