Categories: Accessories, Mudguards
Please note, all of our items are subject availability, and our stock levels change regularly.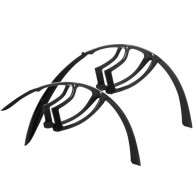 Riding through the depths of winter can call for some hardening up, especially when the rain is torrential and your face is being sprayed with road water. Well, with the Crud Road Racer MK3 Mudguards, you can say goodbye to the cold and hello to warm, grit free riding. Secured via a set of sticky-back Velcro straps and weighing only 260 grams, these mudguards are ideal for any discerning riders' winter wardrobe.
You may be interested in…