Categories: Accessories, Saddles/Seatposts
Please note, all of our items are subject availability, and our stock levels change regularly.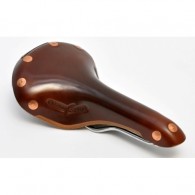 Lightweight and high-quality men's racing saddle

- copper plated with natural bend leather cover and chrome tubes
- Once molded to the rider, its comfort will last forever
- The polished leather cover, copper plates and the precision manufacturing increase the value of every bike

Weight approx. 590 grams

We also stock other Brooks saddles, please ring more for details.

You may be interested in…