Categories: Bikes, Bmx/Trials/Jump bikes, Kids Bikes, Other Stuff
Please note, all of our items are subject availability, and our stock levels change regularly.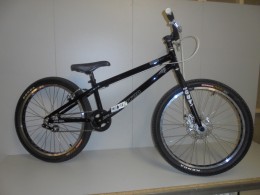 Ashton Edd Tongue Alloy frame.
Onza Steel fork.
Bars, stem, seatpost, Alloy.
Kenda k-rad tyres.
Ronnie tuff on the street 24" rims with Alloy rear cassette hub. Shimano Deore front Alloy hub.
Duro crankset.
White Alloy platform pedals.
Shimano v-brake levers.
Clarks front disc brake, rear v brake.
comp headset.

You may be interested in…