Categories: Accessories, Helmets
Please note, all of our items are subject availability, and our stock levels change regularly.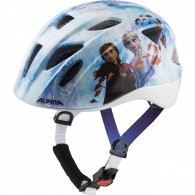 Kids need the most protection for the smallest heads. In the Disney collection, ALPINA has combined three helmets with exclusive designs that cover a wide range of uses and the age range from one to ten. Ariel, Rapunzel and Minnie Mouse will accompany all girls next season on their bike rides. Donald Duck, his nephews Tick, Trick and Track, and the Star Wars heroes will join the boys on their rides. Everything is geared towards maximum safety with maximum comfort. The three helmets adjust perfectly and individually to kids' heads due to their Run Systems. The perfect fit and the best possible protection are thus guaranteed at all times. Detailed solutions, such as the integrated fly screen, antibacterial and washable paddings, the practical Y-distributor under the ears and the Ergomatic ratchet closure on the chin make handling the helmets a breeze.
You may be interested in…