Categories: Clothing, Skull caps
Please note, all of our items are subject availability, and our stock levels change regularly.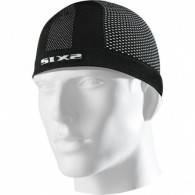 Skull cap made of Carbon Underwear®: it protects the head from changes in temperature. on cold days, the patented SIXS Carbon Underwear fabric eliminates body moisture and perspiration from the skin so that the sensation of cold is extremely reduced. likewise on hot days - again exploiting the patented SIXS technology - it provides unrivaled comfort by preventing perspiration from building up.
Size: One size.