Categories: Accessories, Saddles/Seatposts
Please note, all of our items are subject availability, and our stock levels change regularly.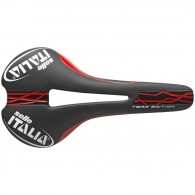 Selle Italia Flite - The excellent combination of comfort and aesthetic is what distinguishes this timeless legend from so many other saddles. Team Edition with titanium rails.

The Flow version comes with strategically placed anatomical cutouts that improve the comfort in the perineal area. The wider and flat seating surface takes care of a better overall distribution of pressure. Thin paddings for comfort and an ultra-slim profile. The shell is made of composite with 30% carbon-fibres.