Categories: Accessories, Saddles/Seatposts
Please note, all of our items are subject availability, and our stock levels change regularly.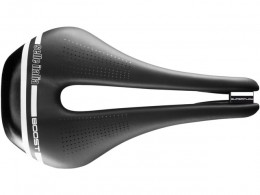 SUPERFLOW SuperFlow technology dramatically reduces the physical inconvenience caused by long-term pressure on the pelvic area and ensures that you always occupy an optimal sitting position with a high level of comfort.
DURO-TEK saddle cover made of robust plastic for long service life.
DUAL PADDING Double padding with variable strength for a comfortable seat even over long distances.
MANGANESE RAIL tubular structure in cromoly-manganese alloy. Light and flexible, ø 7 mm.